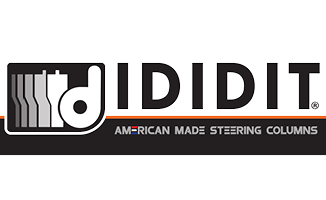 +1 (517) 424-0577
https://www.ididit.com
FAQ
Find answers to most of your common questions. Please contact us if you need some help!
Q: How do I get my horn to work?
First you must identify which horn system your vehicle is using.
One Wire System
This is the standard setup on all of ididit steering columns, as well as most 1969 or newer GM columns.
The horn wire will connect from the spade connector in the center of the horn button to the inside of the white plastic tube (horn cam) on the top of the column.
ididit includes a horn wire with most of our steering wheel adaptors.
You can buy them directly from GM. (part number: 9769448 or 474102)
Horn wires are available from ididit (part number: 2620000014)
Horn Plunger (metal pin) System
Horn plungers were used in many pre-69' GM columns.
The horn plunger will fit inside the white plastic tube (horn cam) located on top of the column.
As the horn is depressed, the metal plunger acts as a wire to transfer the ground.
This horn kit is available from ididit (part number: 2620000010)
Ford System
Most, but not all original Ford wiring systems will use two wires (power in and power out) coming out of the column. If you have a single wire in your Ford column, then you may wire your column in the same manner as a GM column.
GM uses a ground type relay system.
You can NOT mix one type horn system with another type. Doing so will fry the spring inside the column faster than you can disconnect it.
A relay is required in order to convert your Ford system to the GM system found on your ididit steering column.
Relays are available from ididit as well as most auto part stores (part number: CON370113).
Q: Why does my horn sound all the time?
Somewhere in the wiring system the black wire is going to the ground. This should be an open circuit waiting for the ground.
The screw that fastens your turn signal lever in place may be loose, allowing it to touch the bottom side of the horn cam, causing the horn to sound. Make sure this screw is tight.
Q: Will an ididit column shift work with a 2, 3, or 4 speed automatic transmission?
Yes, with the exception of early Powerglides, as they have a reverse pattern transmission
Q: I can't get into park or low, what am I doing wrong?
The length of the pivots must be the same on the transmission as it is on the steering column (the column is 2 7/8" and the transmission linkage should be the same). When you set up your linkage, start with the column and transmission in neutral. This will give you a central location to start from, allowing you to split any variation in the low gear and park detents.
Q: How do I get my column drop over my wires?
Our polisher is always proud of this question. By removing the two bolts from the bottom side of the column drop, the drop will split apart at the center of the hole. The split is nearly invisible. Click Here to view our column drop diagram.
Q: What should I do for a neutral safety switch?
Many of our Retrofit columns come with a neutral safety switch however, our Universal columns do not. A transmission mounted neutral safety switch is one alternative. A column-mounted switch can be added to your column, but the location of the switch must be determined before purchasing. Additional charges will apply.
To add a neutral safety switch to your ididit column follow these simple steps:
The switch must be attached to the column. Some machining is required and must be done by ididit. Installing your own neutral safety switch to the column will void any warranty.
We will need to know where the neutral safety switch will be installed.
The switch must be installed below the wiring slot.
We need to know the distance from the top outer housing of the column, as well as the exact position for rotation (on a clock face). Be sure to determine these measurements as if you were sitting in the vehicle (3 o'clock is towards the passenger). Standard labor charges will apply.

Q: What adapter do I need to fit an ididit column?
The top shaft of most ididit columns is the same size as the 1969 or newer GM passenger car column (pre-air bag). This is also the most popular adaptor used in the aftermarket industry. All ididit adaptors will match this spline. Our standard 3-bolt Adaptors are 1-1/4" deep and our standard 5, 6 and 9-bolt adaptors are 2-1/2" deep.
Ford style ididit columns have a Ford top shaft and will require an adaptor for the same year as your application. Use of a different year will result in damage to the turn signal switch.
We also carry a horn kit to adapt most stock 1955-68 GM wheels to your ididit column . Click here for more information.
Q: Can I powder coat my column with other colors?
We offer black powder coating as an optional finish.
If you will be powder coating your column at your own powder coater, you can pay for the column and/or accessory from ididit, and we will send you just the parts that will be finished at your powder coater. Once those pieces are powder coated and sent back to ididit, they will then be assembled to your column and the finished product is sent back to you. By having us do the final assembly, your warranty will be fully intact. This column will be considered "custom" so additional charges may apply, please call us for details.
Q: How should I prep my column for paint?
In order to prevent rusting, all raw steel columns are wiped down with WD-40 before leaving our facility. Use a non-abrasive cloth or other material to remove the WD-40. Please note: our paintable steel columns are made from a mild steel material and can rust without proper primer and paint.
When prepping your column we DO NOT advise you to disassemble your column. It is important that the column is fully supported at both ends. DO NOT suspend/hang the column by one end only, as the column is heavy and may fall. We recommend using 2 pieces of 2x6 board 12 inches long so the column can be rotated safely while having both ends supported. The top board should have a 9/16 inch hole cut out in the center to support the shaft and the bottom board should have either 1 inch or 3/4 inch hole depending on the shaft size.
When masking your column, it is necessary to close off the top of the column, but masking off the tilt and turn signal holes is not. Some people prefer to tuck a piece of paper behind the holes, but once again it is not completely necessary. We do recommend removing the grommet wire and then taping off the rest of the wires that exit the tube. If painting a tilt column be sure the black primer inside the column is still visible when tilted. This portion of the column is pre-primed at our shop due to the possibility of oxidation from moisture seeping in. Also, make sure you tilt the column each way in order to catch any missed spots.
Q: Should I paint the inside of my column?
Painting the inside is not necessary. In fact we recommend that you do not paint the inside of the column as the turn signal contacts could be affect by doing so. The inside of the column has already been protected with a rust inhibitor.
Q: Do I need to take apart my column to paint it?
We DO NOT recommend taking apart your column! The above instructions explain how to paint your column without disassembly. When you disassemble your column you void any warranty that ididit offers. If you have already dissembled your column, please call us immediately so we can give you a return authorization number. Send your column back to ididit so it can be reassembled in order to keep the warranty valid. When calling, please note that you will be charged $75.00 plus shipping in order to get your column back in working order. If you have any questions regarding this, please give us a call.
Q: Does my column need a ground?
Yes, the horn requires a ground in order to work. Normally the underdash or floor mount will provide an adequate ground but, that is not always true with a fiberglass car. In that case, you can run a ground wire to one of your mounts to secure a grounding connection.
Q: What is the Prop 65 Warning Label found on our product packaging?
You may notice that we include a warning label on all of our accessory and steering column packaging. We are providing Prop 65 warning labels (as by law) to simply inform consumers that the product contains chemicals on the State of California's Prop 65 list. Stainless Steel, Aluminum, Steel, and Brass are all known to contain levels of lead which could cause birth defects or other reproductive harm. Even though a product may be found to contain a Proposition 65-listed chemical, it does not mean that the use of the product will cause cancer, birth defects or other reproductive harm. Nor does it mean that a product is unsafe. The label simply ensures that ididit, LLC is in compliance with the State of California's Prop 65 law for warning label requirements. In 1986, California voters approved the Safe Drinking Water and Toxic Enforcement Act (known as "Proposition 65"). Proposition 65 is a "Right to Know" statute; its purpose is to make sure people are aware, before they purchase, that the product they come into contact with contains chemicals known to the State of California to cause cancer, birth defects or other reproductive harm. The statute requires a warning label even if the amount of the chemical is minuscule. The State of California has listed over 900 chemicals that must be disclosed under Prop 65. The list, which is updated annually, includes a wide variety of chemicals that can be found in many consumer products, such as kitchen utensils, footwear and handbags, exercise equipment, photo and scrap book albums, luggage, and many other products (even foods and beverages). For more information regarding Prop 65, The State of California provides Proposition 65 information on the Office of Environmental Health Hazard Assessment.
---